The right earrings can make or break your outfit. With so many different styles of earrings to choose from, you must find a pair (or pairs) that fit your look and style. Whether you're dressing up for a special occasion or want to add a little something extra to your everyday look, there's an earring design out there that will suit you perfectly. So take time to explore the world of earrings until you find the perfect match! Selecting the best earring style for you can be challenging because there are so many available. This blog post will discuss the top 8 earring styles that every fashion-forward woman should own! Keep reading to find out more.
Let's get started!
1.Dangle Earrings
Dangle earrings offer a classic option for a spectacular effect with every outfit, regardless of how much fashion trends change. They can have precious stones or openwork. They are one of the most important jewellery items, lengthen your face and dazzle you with delicate creativity in the widest range of forms and patterns. Allow yourself to be influenced by the elegant curves and hues of dangling earrings and project a chic air that portrays a stunning and assured woman. Dangle earrings are often made up of a chain or hoop with a dangling charm or pendant. The length of the earring can vary from short (around 1-2 inches) to long (around 4-6 inches). You can also find dangle earrings in various materials, such as metal, glass, or even plastic.
Dangle earrings are a terrific choice whether you're going to a fancy occasion or just want to glam up your regular outfit. Just be sure to choose a pair that complements your face shape. If you have a long face, opt for shorter earrings. If you have a round face, go for longer and narrower earrings. And if you have an oval face, you're lucky because dangle earrings will look great on you no matter what! Check out Vintage Dangle Trendy Long Big Korean Statement Earrings.
2. Drop Earrings
You can't go wrong with drop earrings if you want to add a touch of elegance to your look. These beautiful earring styles feature delicate pendants that will soften any outfit. Whether wearing them for a meeting or drinks with friends, you'll turn heads no matter where you go. You can turn this style of earrings into an engraved jewellery piece by opting for an engravable charm. You'll be able to etch your drop earrings with an anniversary date, your initials, or even a motivational motto. In terms of materials, drop earrings are usually made with metals such as gold, silver, or platinum. Whether you choose a classic metal or a unique option like rose gold, drop earrings are a versatile accessory that can be dressed up or down. If you are looking for an engravable gift, consider Dainty vintage Drop Earrings.
3. Hoop Earrings
One of the essential accessories, hoops, is still rising to the top. And the reason for that is their stunning shape, design, and elegance. Whether you prefer sleek designs with gold undertones or flamboyant hoops adorned with diamonds bouncing over your shoulders, their effect is always good. The hoop symmetrical patterns have caught our favourite celebs' attention, like Emma Stone, Selena Gomes, Rihanna, and Zendaya. They also showcase gorgeous combinations and cutting-edge looks that combine old and new in ways we love to see. Also, hoops are incredibly easy to wear and can be dressed up or down, depending on the situation. If you're looking for an elegant hoop earring with a bit of edge, consider these fashionable new moon retro exaggerated gold plated hoop earrings to make a statement.
4. Stud Earrings
Studs are the ideal choice for individuals seeking an everyday earring style. Usually small and delicate, stud earrings rest on top of the earlobe without dangling below. Due to their understated design, these earrings are perfect for everyday use, whether pairing them with your go-to pair of jeans or an office-appropriate smart dress. We enjoy creating a completely integrated minimalist style with these cute charms of gold circle round stud earrings. These earrings are elegant and dainty, making them a must-have in any jewellery collection.
 5.Diamond Earrings

Never take them for granted; diamond earrings speak for themselves. Diamond earrings provide the appearance that priceless stones are hovering above your shoulders, which is a wonderful impression. Should we elaborate further? Add some diamond earrings to your jewellery collection, like Diamond Stud Hypoallergenic Zirconia Earrings, to make it better. You won't ever question the glitter they provide to evening attire, completely changing the look of a black dress. This investment is worthwhile if you want to look nothing less than amazing. Diamond earrings are not just eye-catching jewellery but also jewellery you'll cherish forever. You can wear them repeatedly, and they will always bring a smile to your face.
6. Huggie Earrings
Huggie earrings are a scaled-down variation of the hoop design. These are so named because of the way they encircle the ear lobe. You'll adore these pieces if you're looking for more understated earring designs for everyday wear. Add lovely pendants to this earring type to make it uniquely your own. This jewellery piece is fashionable and functional while offering the added comfort we all want daily if you like the finer things in life. You'll find this pattern to be quite beautiful and pleasing. The best part is that Huggies allow you to wear any jewellery you choose while still looking effortlessly chic. We concur! The key is to find a pair of huggie earrings that suit your style perfectly.
7.Pearl Earrings

One of the simplest accessories to match other items is a pair of pearl earrings. Because pearls naturally ooze refinement, you may now use coloured pearl earrings to give your outfits a little extra flair. The simplest appearances benefit from gloss and colour. Accept the distinct elegance that blends traditional and contemporary in countless design possibilities. Another benefit is that pearls don't need much preparation and look stunning when worn. This dazzling addition won't interfere with your everyday jewellery pieces. Many people also like that they are easy to take care of and don't need specialized cleaning solutions. You can quickly wipe them down with a damp cloth after each wear, and they will look as good as new. Who doesn't love that? If you're looking for a versatile earring that can be dressed up or down, you need a pair of Zirconia White Pearl Brass Stud Earrings to add to your collection.
8. Contemporary Climber Earrings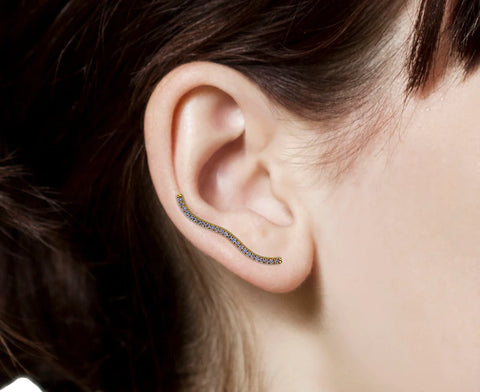 The focal point of your outfit will be your pair of contemporary climber earrings. Like studs, climbers ornament your ear, but they are longer, and because they are hard, they climb up the ear. With this eye-catching earring type, you may create various styles depending on where you have piercings. Instead of the traditional way of wearing them, you can also try unconventionally wearing them. Here is where your creativity comes into play! Opt for a pair that comes in an interesting design or shape to stand out. You'll love how they make you feel and look at you.
So, there you have it! Which styles of earrings will you be adding to your collection now that you are aware of them?
In a Nutshell
So there you have it, the top 8 earring styles that you should consider adding to your wardrobe. With so many different options available, there is something for everyone. And who knows, maybe you'll even find a new style that you never thought you would wear but end up falling in love with. So don't be afraid to experiment and have fun with your jewellery collection. After all, life is too short to avoid taking chances with fashion. Which of these earring styles are you most excited to try? Let us know in the comments below!